This server is lifetime free and only for study purpose.
It is not for profit. Player can voluntarily donate through the following modes of remittance,
Thanks for your donations to our server, may you enjoy the game.
Terms of remittance for donations
(1) Before your donation, please do understand, your donation will be used for the operational investment of the best server and the purchase or upgrading of the hardware and software for better game environment. Besides, every year end, the surplus of donations will be donated to the international recognized Red Cross anonymously to help the children of poor areas. (2) This server is not responsible for the loss of the remittance's failure due to player's personal reason. The server will also not answer for expenses or loss incurred in the inter-transactions among players. (3) If the players need to transact the game items in between, we don't guarantee the transaction and also don't accept payments in behalf of players. Players shall be responsible by themselves for the loss might be incurred then. The remittance of donator shall only load for his own accounts, not for others' account. This server shall not be liable for the loss or dispute may be incurred.

************************************************
Donation Value: 1 peso = 1 point
The previous methods of remittance will be stopped due to the change of management.
Starting Nov 16, 2015 please don't donate to the old methods of remittance, Thanks.
Currently, The only way of remittance will be bank deposit through b
anco de oro (BDO) with :
[Cash Acceptance Machines without teller in BDO bank hall]
or [Online banking with your bank account]
or [ATM inter-branch fund transfer with your bank card]
or [Cash deposit through BDO teller in bank]
or Paypal (Need ask for Livechat to get the Paypal account).
************************************************

New Remittance steps:

Cash Acceptance Machines without teller in BDO bank hall:
The easiest method is use BDO cash Acceptance Machines
(It's a ATM Machine without teller)
Here is the BDO cash Acceptance Machines list,you can find one machine nearest:

https://www.bdo.com.ph/sites/default/files/pdf/Cash%20Accept%20Machine%20List.pdf
1. Push "Press for cardless transaction" botton.
2. Push "Cash deposit" botton.
3. Please select DESTINATION ACCOUNT type: Push "Peso Savings" botton.
4. Please enter the Account Number or BDO Cash Card Number:
Input 3000361116 then push "Confirm" botton.
5. Please put your cash in the designated bin below for processing.
6. Please wait while your transaction is being processed.
7. You have inserted the following notes:
1,000 * 00X
500 * 00X
200 * 00X
100 * 00X
-----------
XXXX.00 Total
Check the "Total" then push "Confirm" botton.
8. Summary of Deposit transaction.
Double confirm the "Account Number/BDO Cash Card Number" is 3000361116 and Amount,
then push "Confirm" botton.
9. Please wait while your transaction is being processed.
10.Thank you,Transaction completed,Please take your receipt.
11.Submit the "DATE,TIME,LOCATION,TERMINAL ID,RECEIPT NO.,AMOUNT,SERVER NUMBER,USERID" to Livechat.

************************************************
************************************************
Cash deposit through BDO teller in bank:
Step 1: Go to the nearest Banco De Oro (BDO) branch
(please take note of which branch you go to)
In BDO branches you must say you want to DEPOSIT (not donations),
you DEPOSIT because u want to buy the virtual item in online game.
Step 2: Get a deposit slip and fill up the information as follows:
Our BANCO DE ORO bank account name is MAN WAN CHAN,
Account number is 3000361116.
Please re-check this information before you donation everytime.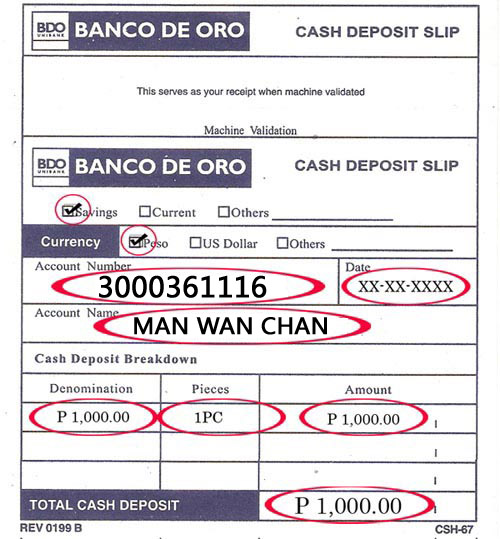 Note: Different branches may charge certain amount for deposits outside Metro Manila
kind reminder:
deposit your own unique amount to better differentiate your deposit from others,
so that we may process your transaction much more quickly.
ex: instead of deposit 1000, deposit 1001, 3008, or even 5099
Step 3: After completely filling up the deposit slip,
go to the teller and submit the slip together with the money.
Step 4: After the teller is done processing your transaction,
he/ she will give you a receipt as your reference and proof of payment like so: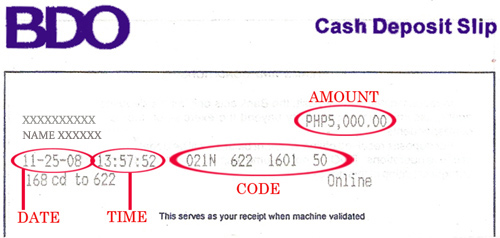 Step 5: After your remittance, please contact Livechat and submit your
donation details as the following format.
(Or you can send SMS to agent cellphone with number 9085850836
and submit your donation details as the following format):
BDO, Branch, Date, Time, Code, Amount, Your game user ID and server number.
Ex: BDO, Pedro Gil Singalong Branch,
Nov-18-2015, 13:57:52, (021N 622 1601 50),
Php5000.00, User ID: xxxxxx and BossRan.
Step 6: After agent confirm your remittance
(Livechat or cellphone SMS), the epoint will be loaded to your username.
Note:Please keep your deposit slip or proof of remittance for 3 days
in case of further verification needed.

************************************************
************************************************

Online banking with your bank account:
Or ATM inter-branch fund transfer with your bank card:
Step (1): first of all, you need to have a bank account and activate its online banking.
Step (2): you may enroll the Online/ATM fund transfer or phone banking for your personal account at the bank website or go to your account opening branch to apply this service.
Step (3): Request the enrollment of our account as your third party account
Step (4): Once the service is being activated, you may transfer the fund to us online or at ATM instead go to the bank. For more details please visit http://www.bdo.com.ph/ - 6318000
Note: Different branches may charge certain amount for deposits outside Metro Manila
kind reminder: deposit your own unique amount to better differentiate your deposit from others,so that we may process your transaction much more quickly. ex: instead of deposit 1000, deposit 1001, 3008, or even 5099
Our BANCO DE ORO bank account name is MAN WAN CHAN,
Account number is 3000361116.

Welcome to use our LiveChat:

Click me to chat-->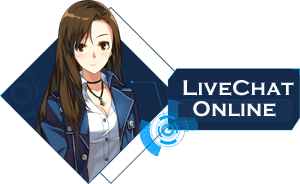 <-- Click me to chat